And the Winner is … Daiva B. Congrats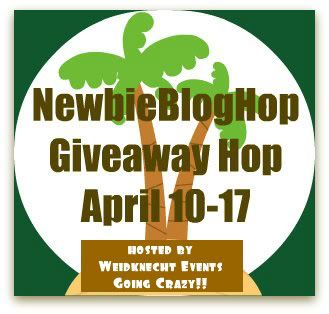 The Newbie Bloggers have arrived and we're bringing you a giveaway hop!! We've gathered up over 100 blogs (Newbies and those AWESOME bloggers who LOVE Newbies) and we all have a giveaway of at least $15 for you!!
This Giveaway Hop is hosted by GoingCrazy!!WannaGo??!! and Planet Weidknecht and is open to you from April 10 to April 17. Now, let's get to hopping and winning!!
 When you're a Newbie Blogger, one of the most important things you can do is connect with other great bloggers who want to help and are willing to share their tips and tricks. The Newbie Blog Hop started so that we could connect with other Newbies and learn together!!
The Newbie Blog Hop, hosted by GoingCrazy!!WannaGo??!! and Life's Cheap Thrills, opens every Tuesday at 9pm CST and closes at midnight on Friday. We have a Facebook Group where we share with each other as we learn together.
If you are a Newbie Blogger – or you "feel" new – come join us!!
The Ordinary Aunt is giving away the following prize package:
Lovable Label's Ultimate Camp Pack

This pack includes:
15 sticker labels
40 Slimline labels
12 Shoe labels
72 Press n' Stick Clothing DOTS
2 Mini-Metal Tags
12 Square labels
The Question by Scott J Langteau

DISCLAIMER:*Please note that The Ordinary Aunt and the Newbie Blog Hop Giveaway Hop bloggers are not responsible for sponsors who do not fulfill their prizes. I have represented each sponsor with the expectation they will fulfill their prize and in a timely manner. We will contact the sponsor regarding your prize(s). The sponsors, in most cases, are shipping their items to you directly. We will make every effort to assist you in obtaining your prize. If there is an issue with a sponsor, please notify me within 30 days for assistance, after that I may be unable to assist you.